GEA R AM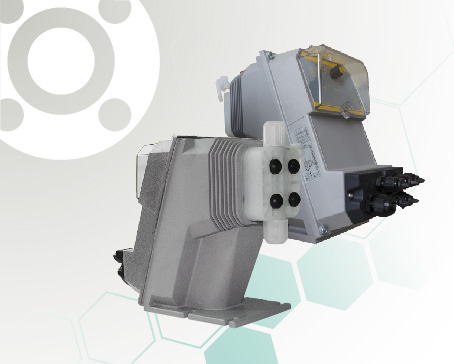 ELECTROMAGNETIC DOSING PUMP WITH ADJUSTABLE FREQUENCY AND STROKES
PVDF head and kit is suitable for almost all chemical used in Industrial, Waste Water Treatment and potable water applications.
The use of Ceramic Balls improves the pumping reliability and the chemical compatibility of the whole liquid end.
Long life diaphragm, tested to give 5 years working life.
The advanced design and the manufacturing process allows the diaphragm to have a unique life expectancy.
Routine diaphragm replacement no longer required.
Reduced maintenance.
100/240 VAC 50/60Hz tension Input.
Electromagnetic pump with ADJUSTABLE frequency and strokes.
1 model with flow rates from 8 to 25Lt/h and pressures up to 14 bar.
Double regulation allows a perfect dosing in a wide range of uses.
Analogue with proportional flow rate.
According to an external analog (4÷20 mA)
Digital pulse signal (e.g. from water meter).
ELECTRONIC STROKE LENGHT REGULATION .