DIS.M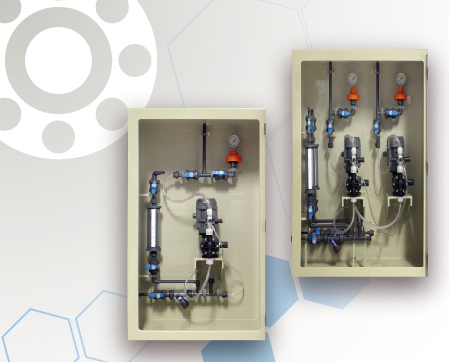 INTEGRATED DOSING STATION
COMPACT SOLUTION WITH ALL DOSING COMPONENTS FOR A PROFESSIONAL INSTALLATION
From 1 to 3 motor driven pumps plunger, or mechanical membrane type with patented assisted return, for flow rates up to 2000 l/h and pressures up to 20 bar.
Various working fluids with application from the water treatment to the industrial area, to food industry.
The structure of the dosing systems involves essential elements in the operation: calibration pots, shut off valves, safety valves, pulsation dampers, instrumentation etc.
Optional accessories: atomizers, instrumentation, custom connections, heating systems etc.

APPLICATION AREAS
Water treatment (municipalities, wastewater).
Industrial sectors ( steel, ceramics, food & beverages, detergents, paper, textile and pharmaceutical industries).
Energy (boilers, desalination, cooling towers, environment).